ALIVE Associate: CARETAKERS INITIATIVE (CARIN)
Representative to ALIVE: Patricia Ndikum Awah
Click here to email
2020
We held LVE workshop in Yaounde on the 9th and10th of September, in Bamenda on the 22nd, 23rd and 25th of September 2020, in Douala on the 24th and 27th of December and in Kumba on the 30th of December 2020. 
Altogether we had 8 workshops with IDPs in the year 2020. Generally, we worked with 129 IDPs (Internally Displaced Persons) in 2020.
Damas - 20 participants
Douala - 29 participants
Carrier - 15 participants
Kumba - 20 participants
Mbelem - 30 participants
Bayale - 15 participants
Workshop on Living Values Education with IDPs in the littoral and southwest regions of Cameroon - December 2020.
The workshops took place at Bonabome-Bonaberi Douala and in Thacha quarter Kumba respectively on the 24th, 27th and 30th of December 2020.

Thacha community Workshop - Venue and participants during break, and afterwards
Bonabome Bonaberi - Douala community Workshop - Participants

Bonabome Bonaberi - Douala community Workshop - Imagining and refelcting during quiet time

Bonabome Bonaberi - Douala community Workshop - Visiting Cards - Identifying Values in each other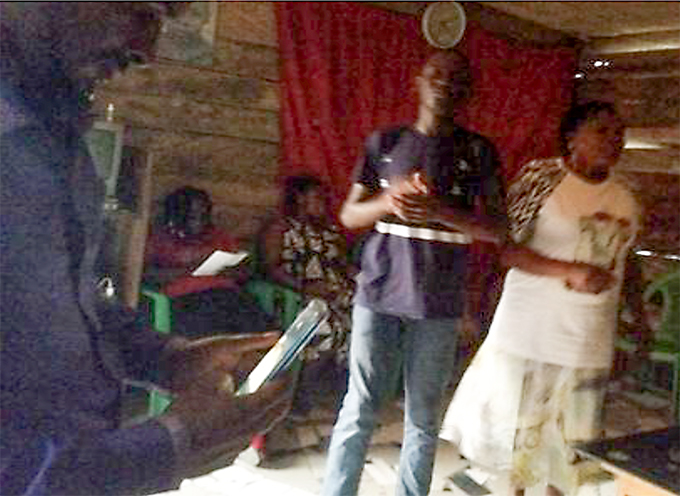 Bonabome Bonaberi - Douala community 
Workshop - 
Presenting 'Who they admire most and why'
Bonabome Bonaberi - Douala community 
Workshop - 
'What do people say about you?'
This was a very difficult question for the IDPs to answer - they needed some reflections and honesty before they could react.
Bonabome Bonaberi - Douala community 
Workshop - My F
avourite Music
This activity was so interesting because they had to dance as they sang their favourite music. Good enough; for the lesson learnt after the singing made them happy.
Bonabome Bonaberi - Douala community 
Workshop - 
Tree of Values
From the exercises on values awareness, the IDPs did not find it difficult to identify the values of their community despite of the fact that some of them are illiterates.
Workshop on Living Values Education with IDPs in the centre and northwest regions of Cameroon - 22nd & 23rd September 2020.
The workshops took place in the Catholic University Chaplaincy Centre (CUCC) Mbelem, Bamenda.
Mbelem Workshop - Venue and participants
Mbelem community Workshop - Visiting Cards - Value awareness

They were given the opportunity to express their feelings and experience gathered during the exercise. Participants then exchanged ideas.
Mbelem community Workshop - Quiet Time
Participants sharing their experience. They observed some Inner peace, joy, felt relaxed and some even had a short nap.
Mbelem community Workshop - Tree of Values
Patricia designing the Tree of Values for Mbelem together with the participants. They then discussed in groups after drawing their personal Tree of Values.
Workshop on Living Values Education with IDPs in Baylee Bamenda - 25th September 2020.
This workshops was introduced by Ndukong Mercy.
Baylee Bamenda community Workshop - Some creative exercises leading to the discovery of values.
Workshop on Living Values Education with IDPs in Damas Yaounde - 9th September 2020.
Damas Yaounde community Workshop - Value Cards exercise and Quiet Time
Damas Yaounde community Workshop - Peace Talks with Eugene

'What would the world be without war, conflicts and problems, how would it look like?" Replies such as peace, Joy, Happiness, love etc, the entire world will be a better place. Uphold the value peace, ignore to avoid conflict and war. He advised the participants to live and respect their values and that of others and this will make them happy.
Damas Yaounde community Workshop - Uphold Values to avoid conflict

Damas Yaounde community Workshop - Visiting Cards - Participants exchange ideas and get to know each other.
Workshop on Living Values Education with IDPs in Carrier Yaounde - 10th September 2020.

Carrier Yaounde community Workshop - Value Cards - Participants were abe to identify their values and stick to them.
Damas Yaounde community Workshop - Quiet time
Carrier Yaounde community Workshop - Peace Talks - Edmund giving a talk on Peace.
Damas Yaounde community Workshop - Particpants sharing love and joy during and after the workshop
2019
Training of Educators and Youth Leaders - Basilica Yaounde, Cameroon; 6 – 9 August 2019
Patricia Ndikum of Caretakers Initiative, the ALIVE Associate in Cameroon, had informed ALIVE of some of the tremendous challenges facing people in her country and that she in particular has been encountering in trying to spread a message of values amongst youth. ALIVE was able to provide some support and after a prolonged process of planning the long-awaited workshop took place in August as Patricia reported as follows.
Our mission for the seminar was to reach out to youth and educate them on the importance of values as a way to guide their actions, judgments and attitude. Our aim was to help them become conscious of the values they possess and to discover the need for and importance of values in decision-making, living together and upholding standards. To realize this we have to train teachers and youth leaders on values-based education. Participants were informed that the methodology we would use – and that they could use in their work – would be Reflections, Visualizations, Discussions, Quiet Moments and Creative Activities. One activity we carried out was The Tree of Values; a large bare tree with about 4 to 5 branches and a few roots was drawn on flip chart paper. The roots represent the foundation or core values, the trunk represents the support and the branches are our activities in life. Participants were divided into groups and invited to draw a tree of their life and share it with others in the group. After this first exercise, participants were asked to draw a value tree for their school and then brainstorm on the values of Cameroon. Tellingly, participants refused to contribute, saying we don't have values in Cameroon. After much effort, finally we came out with something.

Tree of Values
It was a similar slow journey in other activities but the knowledge and application of values by participants improved gradually as we progressed with the training. From the pre evaluation phase we knew that participants were not able to identify values by themselves. However, as the training continued we saw progress and they became able to appreciate values through creative activities. The spirit of interaction amongst participants increased as the workshop progressed. I saw how a family of values workers began to develop and grow by itself, with members starting to become one another's keeper.
Some teachers confess they went into teaching not because of any passion for the profession but because of diverse reasons such as 'to earn a living', 'fend for the family', 'fight for the future', 'I receive knowledge more than I give', 'just because I love the school', 'to build a working spirit and establish myself,' or 'I have no choice'. However some showed how much they love teaching, saying, 'teaching adds more value to my life', 'I love children', 'it helps me grow', 'I feel satisfied bringing up children'. We also had participants who were negative about themselves, society and the country as a whole. When the topic of the government supporting teachers was brought up, the workshop nearly came to an end; teachers complained bitterly about the way they are poorly treated and about the poor salary they receive. But they also shared the problems they face with students and how they solve them. By the end of the workshop participants were able to ameliorate the way they were thinking and solving conflicts in class amongst students. They were also able to relate to qualities of a good teacher such as punctuality, discipline, resourcefulness, having a good character, being soft hearted, hardworking, a good listener, creative, knowledgeable, neat and honest.
In the same way during the evaluation they brought up a series of needs of a child. Generally they came to understand that we are all bound to live together as humans, despite our differences. The impact of the training was very significant in that by the end most of the participants were interested in working on values education, some saying they see themselves as having a new beginning, others saying they felt so satisfied. Other comments included: 'I feel increased in values', 'now I know how to treat other people, 'I have learned a lot of things', 'I have learnt to be creative, hardworking, patient, have a focus, tolerate others and have a sense of belonging and determination'. We also observed the changes in behaviour and a spirit of oneness and belonging that was shared by the participants. They created a WhatsApp group on the spot and are ready to take part in our activities.'
Three-year Plan for Teacher Training Workshops Launched!
"Here in Cameroon we have a vision of bringing youth together harmoniously so they live and participate in the community in a responsible way. Our opportunity is to reach out to the young population, training and sensitising them on the importance of values which will guide their actions, judgements and attitudes. Through doing this we can help the youth become conscious of the values they possess and appreciate their environment. We were delighted to receive some financial support to help make this vision a reality and the first phase of our three-year plan for teacher training workshops is up and running. Further offers of support would be warmly welcome!"

By Patricia Ndikum Awah of Caretakers Initiative, the ALIVE Associate in Cameroon


A Intercultural show in February and the Day of the African Child in June

2018
Hello Kids, Values Balloons and Ubuntu Trees
Patricia Ndikum, the President of Caretakers Initiative Cameroon and an ALIVE Director, recently shared photos of some of the activities in Cameroon. One activity is "Hello Kids", a children's program organized during the summer holiday. In 2017, they worked with children from St. Theresa's Orphanage Obili and different areas in Yaoundé. Activities carried out included Living Values Education, arts and craft, gender and violence, and health and the environment.


The following pictures are from an LVE Workshop at Green Hills Academy Complex. In addition to LVE sessions, they did Ubuntu activities, including making an Ubuntu Tree, and enjoyed values balloons. In the latter activity, participants stood in a circle with a balloon in hand. They were asked to reflect on one or two values they would like to give somebody. They then blew up their balloons and wrote their values on them. To music, they tossed their balloons to the air with the aim to keep them all in the air. When the music stopped, everyone caught the balloon nearest him or her. The facilitator explained that the values balloon was a gift from somebody special to you.


The teachers also made a family tree of the values of their school. Patricia wrote, "The tree was used as a symbol to represent our lives because of its uniqueness, dignity and beauty. The facilitator used qualities to describe how we as humans are unique. He said we are also very important and need to be respected, because we all possess special qualities which are innate and we all are beautiful, having God's image. Participants were left with this idea to think of how a tree represents their life. Madame Ngum Janet was asked to draw a tree on a large cardboard paper pasted on a board. We agreed that the educators of Green Hills Academy could create a tree of life for Green Hills.
The function of each part of the tree was taken into consideration. Roots are like an anchor. Which value is the foundation of Green Hills? Which gives it strength for growth and development? The trunk is the support. Which values support Green Hills and gives us the strength to sustain its functioning? The branches spread out in different directions; they represent the important areas of the institution, that is, teacher welfare, pupil performance, administrative work, projects, etc. For the leaves, participants were asked to think of all the things that leaves give – oxygen, food, shelter, shade etc. Participants were asked to think about the values and qualities Green Hills gives to others, the community and nation. These values were then written on the leaves. And flowers? Flowers are unique and attractive, they are the special values of the institution. Fruits represent our achievements and successes; the values which enable the school to do well in its projects.


A tree is nourished with sunlight and rain. What is the sunlight of the school? Teachers wrote the values which represent the sunlight and rain of their school. Are there any insects of negative attitudes, such as gossip or laziness? What value could change the negative into a positive? Their replies: listening, hard work and enthusiasm.
After the group tree was completed, individuals were asked to draw their personal tree of life. When this was done, they split into groups and shared their trees. Students later made trees to appreciate their personal values and explore how various parts of our lives are interconnected and how habits influence our lives, relationships and achievements."


2017 - 19th to 27th June
Hello Kids Program at St. Theresa's Orphanage Obili, Yaounde
Workshop on Values Based Education with Children
Living Values Education (LVE) is coordinated by the Association for Living Values Education International (ALIVE), a non-profit-making association of values educators around the world.  LVE is supported by UNESCO and a variety of other organisations, agencies, governmental bodies, foundations, community groups and individuals.  It is part of the global movement for a culture of peace in the framework of the United Nations International Decade for a Culture of Peace and Non-violence for the Children of the World. ALIVE is an independent organisation that does not have any particular or exclusive religious, political or national affiliation or interest.


Day One Introduction
Hello Kids is a children's holiday program organize every summer holidays by Caretakers Initiative Cameroon. This year we worked with children from St Theresa's Orphanage Obili, and some from different areas in Yaoundé. Activities carried out includes, living values education, arts and craft, gender and violence, Health and Environment.
On this first day we started at 1pm with prayers. A welcome speech and greetings were given by the children. A brief introduction was given about caretakers Initiative and Association for Living values Education. We started by asking questions such as. Who is the person you admire most, what does he or she do in life, what is it in him or her that you admire etc.
The children reacted, each person giving his or her model and their reason for taking that person as a model. From their answers, we were able to pull them into the lesson gradually, making them understand and identify values in others. Interestingly in such a close setting, most of the children were like referring to particular individuals as their role model. From the points they raised we were able to make them understand and see the qualities all these persons presented or posses.
We went ahead asking questions referring to the children themselves. This was to enable us see if these children were able to identify the qualities in their friends and to know how far they understood values.
Questions such as, who is the most generous amongst you? What does he or she do that makes you feel he is generous? We continued with who is the most respectful, most caring,  most responsible etc. from their answers we were able to explain to them what living values is all about.


Greetings
In this orphanage it was difficult to bring out cultural pattern of greetings from the children, most of them do not even know where they come from. We adopted some of the gestures they presented and help them do it better.
According to our custom when visiting children we always go along with some gifts or presents. Some foodstuffs were offered to the orphanage as a support to keep going.


Visible and Invisible Friends
This exercise was carried out by the older children. Pieces of papers were given to them, to write their names and put in a container. It was shuffled and given back to them to pick. The person whose name is picked becomes the visible friend to the one who picked and the person who picked is the invisible friend to the bearer of the name. The invisible friends were revealed by the end of the program


Day Two
After prayers were said by one of the pupils, we had a revision of day one activities for about 10 minutes.
Reflections
Some quiet moment was observe during which we asked the children to reflect on a special moment of their life .They were guided by the facilitator. Questions such as, which is the moment, the place, what were they doing etc. were ask. After the exercise the children were asked to give their experiences.  Some reacted by saying their special moment is when they are reading, others say when in church, some when eating rice and chicken, when playing football, when studying in class etc. they elaborated on the points they gave. The children were asked to put what they were doing during this special moment in drawings.  They were also asked to work in groups for those who were not able to work alone. 
images
Children observing some quiet time.   Children working in groups
This young man says during his quiet time he found himself playing football, so he is trying to draw himself and his friends in a football field Trying to color the field green.
image
Facilitator study children's drawings with them


My Favourite Music
The children were called up to sing and dance their favorite music. They were also asked to give reasons why they loved that particular music. From their reasons we were able to pull out some values, which we used to develop their lessons.
A group dance was organized, during which everybody had the opportunity to danse; even the smallest in the house had to show her style. This warm up was very important for the children, relative to the very cold weather we had on this day.


Sketches and Singing
The children were organized to present sketches in front of their friends, after which the whole class was asked to explain the message transmitted and the value lesson learned.
Interestingly, the children love singing, many songs carrying value lessons such as:
I have love, peace, joy like a river (3x) in my soul 
I have love, peace, joy like a river (3x) in my soul.
They ended the day with prayers.

Day Three
As usual the children started with prayers and revising day 2 lesson .This was followed by singing and dancing to warm up.
Ubuntu Values
A large tree was drawn on a flip chart paper pinned on a board .The children were asked to reflect on a value they would like to give the orphanage considering the orphanage to be their world.
image
My gift to St Theresa's orphanage
Colored A4 papers were cut in leaf form. The paper leaves were distributed to the children. Each child wrote his or her gift in bold letters. They were asked to write their names beside the value. The reason was to make the activity more involving and interesting. The leaves were pasted on the branches of the tree, the tree looked beautiful. The children admired it and even those who were not part of the class wanted to give their own values. We ended the day with the children singing and saying their prayers.


Day Four
Value cards and posters
After singing and praying, we continue with day 3 activities From the Ubuntu tree the children were asked to pick a value or take the value they gave to their orphanage and create a card or a poster, a poem etc. to demonstrate their understanding of the value they gave as a gift. This exercise was very interesting for even those who did not put a value on the tree, reflected on a value and designed their own cards.
It was difficult to stop the children, for it was as if it was a competition, everybody was so involve and wanted to give the best drawing. Those who used water colour went as far as drying their paper on the charcoal fire, in order to catch up with time and others, because they wanted to double their colour on wet paper, their paper got burst and they had to meet up with another paper.
images
The children express their understanding of the values through the above drawings
Tree of My Life
A large bare tree with roots, trunk, branches, was drawn on a flipchart paper pined on the board. Some leaves, sunlight, rain, insect and insecticide were added. The different parts of the tree were described according to how it is applied relative to values. We have
-The root=anchor/foundation
-Trunk=for support
-Branches= for balance
-Leave=Gift to the world
-Sun and rain=Provide energy
Insects – bad habits
-Insecticide=Value we can use to destroy the insect (bad habit)
After describing the function of the different parts of the tree and its environment and helping the children to see how the values are applied in each stage, to save time, instead of working on the tree of my life, we went straight to the family tree.
images
St Theresa's Orphanage family tree


Arts Craft Workshop
During this holiday under arts and craft we also gave lessons on, types of colours, color mixing, paper shapes etc. We did the primary, secondary and tertiary colors. And their differences.
We used papers to form shapes such as canoe, envelopes etc. We taught the children to create articles out of beads. Such as chain, earring, hair bow etc. In this activity we worked in collaboration with OMAN design/ OMAN design is coordinated by Odette Gemuh/
images
This is Odette Gemuh she is responsible for training the kids on beats work
Odette presenting


The children also received lessons on gender and violence, health issues 
(HIV/AIDS and the prevention of malaria). More on environmental issues
Interestingly before the workshop came to an end we started observing some behavioral changes.
The workshops ended without any ceremony because of lack of means to give them some small farewell.


2017
A Gift Results in LVE Workshops at Schools, an Orphanage and a Refugee Camp
Patricia Ndikum and the LVE team in Cameroon have conducted a number of LVE Awareness Sessions and Educator Trainings since January of this year, as well as activities with parents and students. The facilitated LVE Educator workshops for the Lady Bird group of schools, Holy Infant Nursery and Primary School, and Green Hill Academy. The provided LVE workshops for students at a Lady Bird School, St. Stephen's International, Maison Dola, and GBPS Awae Ekounous. They plan to continue with educator workshops during the rest of the year, and also do LVE activities at an orphanage as well as values-based education awareness building at a refugee camp.
Congratulations Patricia Ndikum and the LVE team in Cameroon. You have made the gift from the families of Kuwait American School spread so beautifully.
Patricia and the team would like to continue to disseminate LVE workshops to other schools and refugee camps in different regions of Cameroon. They are also cooperating with a sensitization, screening of and treatment of malaria program in the Central and Littoral Regions. They are hoping to attract funds based on the success the educators, students and families are experiencing.
Should you wish to contribute to LVE workshops, materials and art supplies for one or more schools, please look at their Action Plan and contact Patricia.


2014 – Report of Activities
TRAINING THE TEACHERS WORKSHOP ON VALUE BASED EDUCATION YAOUNDE- CAMEROON 14TH – 16TH APRIL 2014
SUMMARY REPORT
A three-day workshop on value based education was organised in Yaounde by the Association ofd Living Value Education Cameroon. It was coordinated by Patricia Ndikum, assisted by Forgwe Claudia (Aunty Clo). This workshop brought together teachers from five different schools with an aim to enable teachers to create and pass on values naturally to the pupils.
On the first day, most teachers arrived very late due to very bad weather (heavy down pour). All the activities of the first day were repeated on the second day.
The second day was successful. It started with the introduction of the coordinator, the facilitators and participants. After which the main objective of the workshop was presented by the coordinator which was: 'To enable teachers to create and pass on values naturally to the pupils'.
In her introduction, Patricia regretted the fact that rain interrupted the first day's activities thereby making it difficult for the Workshop to kick off smoothly. She however appreciated the attendance of the second day. She announced that the program was to be participatory and participants should not expect lectures from any teacher. She added that Living Values Education is all about sharing values and ideas. She went on to give a brief history of Living Values Education. She mentioned that Living Values is not only for educators but for people of all background throughout the world.
The first activity was a reflection on personal values. Participants were given some moments of silence to reflect or imagine a comfortable place or position such as a relaxing place in nature for example a forest, a garden, a sea shore, beside a river etc., a person who has influenced your life positively. Participants gave respective experiences. This exercise aimed at value awareness, drew us to the identification of values such as peace, love, uniqueness, to appreciate and orientate. The lesson drawn was that each one of us possess values which can change our society for better if and only if we live them.
Participants were then asked to reflect on some of their ancestral values that are helpful to them today. After some moments of sharing, participants were divided into groups. Each group was to come up with a tree of values for Cameroon, after which each group made their presentation. Before the groups presented, a question was asked by the facilitator to define the word values. What could be retained from the various definitions was that, values are positive attitudes or qualities which could be moral, intellectual, physical or spiritual. After the presentation of all groups the most popular 12 values were identified. They are: cooperation, honesty, love, respect, responsibility, freedom, humility, peace, happiness, simplicity, tolerance and unity. A value tree of Cameroon was drawn.


An interlude was observed during which Aunty Clo taught a song.
LOVE, PEACE, JOY

I have love like a river like a river
I have love like a river like a river
I have love like a river like a river
In my soul (2x)
I have love, peace, joy, like a river (3x)
In my soul (2x).
The last activity of the day was a visualisation and imagination exercise. Participants were asked to reflect and imagine their childhood life, imagine a school of their dream, and how they would like the teachers to be and in what manner should a child be treated. The teachers went into another group work. They came up with the idea of an ideal teacher in reference to schools in which all needs of pupils were met.
How an ideal teacher would be
- Good listener, decent and intelligent, full of affection for children, jovial/polite caring/ helpful and trustful, creative/dynamic, duty and time conscious, neat, patient, kind/ generous, motivates, spontaneous, good counsellor


Dream school
- Neat, having a playground, garden, well equipped/ ventilated classrooms, staff office, toilets, qualified teachers, good dinning sheds, good computer lab/library, assessable,  good lighting system, available didactic materials, well planned and organised programmes, good management


The day rounded off with the briefing of the next day's activities and an assignment given to teachers to draw a value tree for their various schools. The third day started with a reflection of day two activities. The assignments given to the teachers were presented. The coordinator then drew the attention of participants to the different lessons that could be drawn from the presentation of the respective value trees. Various answers were given and debated upon. It was noted that just from the value tree of a school or an organisation or a country, one can have an understanding or a good knowledge of that institution without physically contacting them.



Visualisation and imagination exercise continued
Participants were asked to reflect on their childhood life. In what manner would you like to be treated? Imagine you were a child. The teachers reflected and brainstormed on the topic. They said, a child needs affection, care, love, understanding, motivation, satisfaction, protection, valued, good counselling, dialogue and guidance.
The next activity was the qualities of a good educator.


Qualities of a good educator
The teachers felt the qualities of a good teacher would be:
Good listener, cooperative, a model, courageous, gentle, respectful, good counsellor, impartial, objective, honest, responsible, tolerant, simple, dynamic, appreciative, jovial, reactive, current, spontaneous, observant, patient, punctual, assessable and open minded.
Another song was taught by the facilitator which went thus;
It's love
It's love
It's love
that makes the world go round
It's love that makes the world go round


Active listening
After the song, participants were divided into two groups and were instructed to communicate with their partners on specific topics. One group was given the name angels and the other the stars. While they were debating facilitators passed round with an instruction to each group that would affect the communication. The lesson learnt was to enable participants to develop good communication and listening skills.


Understanding: Teachers need to understand and address the root causes of problems and find compassionate or sensitive ways to help children change their behaviour, keeping in mind that every child needs to be loved, respected, valued, understood and safe. The exercise ended with a list of "do's" and "don'ts".


The "do's"
Attentive, talk-less, dialogue, encourage, advice, free expression, support, observant, appreciate, acknowledge, tolerant, paraphrase, eye contact, facial expression, polite.


The "don'ts"
Interrupt, ignore, rude, criticise, blame, sigh, distract, neglect, intimidate, over instruct, dictate, too much advice, impose, insult, torture, favour fight.
Then conflict resolution was introduced under which there was mediation skills and what not to do and do do in conflict resolution.


Mediation skills
Be objective, impartial, good judgement, don't impose, don't intimidate, don't moralise, dialogue, ask questions, be calm, have patience, courage, respect, be peaceful, have unity forgiveness, humility, be tactful, polite, attentive, maintain order.


What not to do in conflict resolution

Don't shout, blame, and provide solution


Value based discipline

- Help pupils to develop self respect
- Counselling
- Build awareness in the pupils
- Use of silence in order to reflect
- Pupils propose rules for the class
- Give responsibilities to pupils
- Aim for win win, everybody tries to be the best)


Tools for the teacher
- Tolerance to obstacles encounter on duty and deal with them in a positive manner
- Be flexible in difficult situations
- Ability to find inner strength when there is tension
- To be able to face challenges, for example large classes with lack of teaching aids
- To be able to put aside worries, troubles and concerns and put on a smiling face
- To see every child as a diamond, that is to recognise his or her special qualities
- To be impartial in dealing with children while judging fairly
- The willingness to cooperate in lifting up the fallen standard of education
Participants were encouraged to make use of the values learned by implementing them in their daily lessons.
After the training we went on the field to see how the teachers have been implementing the Living Values lessons in their respective schools. This led us to a one week field activity during which some of the activities such as the paper tower etc. that could not be carried out during the training were then realised. 


FIELD ACTIVITY
A week activity on the implementation of values in the classrooms was carried out. We followed up with some of the teachers in their respective classes and helped them implement values lessons in the course of their class work.
In each institution two teachers were selected to be our contact persons. They shall be the ones to continue the follow up on our behalf. Two pilot schools were chosen, they are "Amasia Bilingual Complex" and "CEF Bilingual Nursery and Primary School".
On the first day, the class teacher introduces the team to the children. After which the coordinator introduced the first activity. Pupils were asked to give the names of those they admired most and the reason for their choices. Various reactions were gotten from children. This exercise led the children to some sort of career orientation, appreciation, admiration, wanting to become like their role models. Furthermore children were ask to stay quiet either by sleeping or folding hands for about 2 minutes. Again various experiences were shared, some said they were happy inside, others wanted to sleep, others said friends were disturbing. These exercises led the children to bring out the values "Peace and happiness".


An assignment was given to the pupils to go home and demonstrate some of the values lessons learnt so far.
The following day, the children explain how they changed their behaviour at home through activities carried out. Reactions from parents as presented by the pupils.
"My father only smiled."
"My mother said, 'You are a good girl.'"
"My mother smiled and said nothing."
"My father said, 'You are a good boy.'"
"My sister said, "That was good." etc
A child having understood the lesson felt she could express more love to her mother on the occasion of mother's day. She asks:
"Please Madame, if you were a child like us and it is the 29th of May, which gift will you give your mother?" Sincerely we did not remember the event celebrated on that day. We threw back the question unto them. Reactions from the children: The 29th May is mother's day. Some of the replies we got from the pupils were;
"I will give her flowers."
"I will draw my mother."
"I will draw a heart and write below I love you."
I will write a love letter to her."
"I will draw my mother and her family."
These reactions from the level four children showed that they are really following up the lesson.
The next activity with the class four pupils was to build a paper tower. We decided to change the idea of a paper tower to a paper house.
The class was divided into four groups and each group had to construct a house of their choice using cardboard papers with different colours. This activity became very intense, so much so that we found it difficult to stop them. We later realised that the children did not take it as an ordinary exercise; it became some sort of a competition, to see which group could build the best house. Again we realised that these children did some kind of division of labour. Some were in charge in building only the roof, others the body work (the walls), the floor, the doors and windows and a special team was to decorate the house. Even though they divided the work, they faced a lot of difficulties too. Such as the pupils' said:
"It was not easy."
"Not everybody worked."
"Some people did not want to work."
"Some people wanted to make their own group."
"Some wanted only their ideas to be taken."
"Some wanted to work alone."
"Some were insulting."
"Some were angry and left the group but came back."
"Some cried because their house was ugly."
"Some group members ran away from their ugly house."
"Some cried because they said they were responsible for the ugly house."


From the experience gathered, in order to live their values they have to change their personality. This led them to cry, quarrel, run away from group because they were afraid to fail, etc but finally they had to regain their group because they did not have any other option. They said if they stay away others will continue working thus they are bound to work together.
Lesson learnt is that, they must learn to work together for what is profitable to the group, the school or the community.
The fact that they regained their groups showed that they let go their differences and focused on the common goal. Each group wanted to be the best. Those who ran away finally regained the courage to give their own contribution in the building of the house. Lesson on how to be cooperative, creative, hardworking, loving, courage and simplicity were drawn from the activity
The last activity we carried out was drawing a value tree for their class.


IMPACT
ON TEACHERS
Some of them were not used to the word values and how to apply them, as such it was like something new, good to be applied in day to day life. Even though they have been hearing or using the words, they do not know the full implication of the words as living values. They were happy and wished the program were continuous. They also wished to be selected to work on values. That was the reason why they decided to sacrifice their time to attend the program right up to the end. Some regretted starting late, they did not know that it was so interesting and important. Some expressed their willingness to be part of the living values team.


ON PUPILS
Reactions received from children after assignment was given. Parents were astonished, appreciated them, this made the children happy and decided to live value based life because according to them it makes everybody happy and comfortable.
The paper house activity had a great impact on the children in that, they came to realise that they were bound to cooperate as a group, to take into consideration each other opinion despite their differences, which led some of them to cry quarrel argue, fear of failure, run away from their groups to join other groups etc.
At the end, the children became conscious of their personality and responsibility to contribute to the success of their groups as such they regained their various groups fully engaged.
N.B: A little girl remarked that, "It was useless leaving the group because others remained working. And, if you go to another group you will be chased away".
The fact that they regained their groups shows that they led go their differences and focused on their goal. Each person wants the best, each group want to be the first. What an unprepared competition.


CONSTRAINTS
We worked under very difficult conditions due to very little resources (material, financial, human resource etc.) at our disposal.


WAY FORWARD
From what we have gathered so far through this pilot training, we thought it is very necessary making it a program to be  implemented all over Cameroon.
This training will not only empower the teachers and pupils but has a great effect on the family as well as the community at large. One teacher reaches out to averagely 40 children and one child reaches out to averagely five people in his or her home, imagine the number of homes and people that will be touched.
Studies have shown that in Cameroon, most homes are living on practically hand to mouth (less than 2 dollars a day). Making it difficult for parents to have time for their children as some have to go out for businesses in the evening while the children are left alone in the house with nobody to talk to them or give them home base education. The value lessons learnt, stand as a guide to the children and the family as they will be able to manage up and be responsible even in the absence of their parents or guardian.
In some homes, parents or guardians come back in the evening very late and tired thus have very little or no time for their children. As such, these trainings of teachers and pupils in schools will be building a solid rock for these children in the early years of their existence. With these values they will be armed to face the challenges of today and tomorrow.
Empowering the youths by inculcating in them the importance of living their values and developing their full potentials is empowering the future leaders of our communities, country and the whole world.
Empowering them with values is in a way playing the role of parents in their lives filling the gap that exist between them and their parents especially children whose parents do not make out time for them due to economic reasons.
Most parents do not know what values are, some are even ignorant about the idea of living values. Some are recalcitrant, some careless about the moral wellbeing of their children and even that of their family. This program will turn to pull their attention through the children's behaviour change as a result of value lessons learnt in schools.
For the program to have a continuous impact on the children, the school and the community at large, we are going to create living values clubs in the different schools. Through these clubs we are going to have constant interaction with the schools.
Focal point persons are going to be established in our partner schools to maintain continues activities. These activities could be extended to interschool competition on living values issues.
In addition to our program we look forward to create awareness through sensitization campaign in public places such as offices, business places and even through the media. By so doing most parent will be reached and this will create an enabling environment for the children to comfortably live their values at home and in the community without being frustrated.


TESTIMONY
One of the facilitators happened to visit a friend in her home. While she was there she heard the boy child in the house telling her younger sister who was disturbing him to allow him live his values. She then asked the boy what he knew about values. He said: "You came to our school and taught us values, so I am living my values in the house'. And 'How do you live it'? she asked? 'By cleaning the veranda every day. I now know that I have to do it every day to show that I am responsible". The child's mother testified that at first he was lazy and did not want to do anything. All of a sudden he started helping in house chores.


Another child testified that she went back home after school and found out that her mother was not in the house and her elder sister was lying sick on the bed. The houses chores were not yet done so she helped in cooking, washing plates and cleaning the house. This was very unusual as she hardly works in the house. When her mother returned, she appreciated her. Her elder sister also appreciated her and said, "Thank you very much you are a good girl". She was very happy and this left a positive impact in her. 
 
The Living Values team in Cameroon wishes to continue in this light gradually to all  the regions of Cameroon. Our resources were very limited, but we still managed to carry out a training of trainers seminar under very diffucult conditions.  We can do much better if we have resources at our disposal.